American Eagle is an award-winning company with, more than 30 years experience in the screen printing and embroidery business. We have the capability to print goods that many other companies cannot with our advanced technology systems.
American Eagle is the largest screen printing and embroidery company in the Tri-County area, with three automatic presses, four manual presses, numbering system as well as four embroidery machines. We offer a full line of apparel and promotional supply with no setup charge for screen printing, plus rush orders are available at no additional charge. We offer highly competitive prices with the highest standard of quality. We are here to stay and will keep you and your order on file for life.
Our friendly sales team at American Eagle is ready to help you meet all your needs!
Meet The Team!
Meet Ray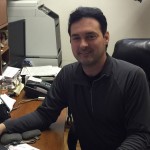 Ray
Meet our Sales Team
Joe Witt

Nicole Dombrosky

My name is Nicole, and I have been working here since October 10, 2013. I can't understand what I did so very wrong to Ray and Craig, but they made me Stacy's assistant. Helping Stacy is nothing short of a world of torment. Every day is a challenge, but I would't give up my job or Stacy for anything!

Gisele Andolina

Hello, I am Gisele, AKA Grandma. If you think I am pretty now, you should have seen me 20 years ago when I first started here.After all of these years, I still do not know exactly what my job here is, so I do a little bit of everything… I am kind of like the "handyman" of the office. I take orders, work with promotional items, fix copiers, and people's boo boos.

Marla Kelley

I've been doing outside sales at American Eagle for three years now and in that time I've mastered turning your vision into amazing apparel!

I am a hardcore hockey fan with strong faith, roots and hamstrings. I'm a social media ninja, thinker, problem solver, perfectionist and an all around do gooder. I'm very picky with whom I give my energy to. I prefer to reserve my time, intensity and spirit exclusively to those who reflect sincerity. I like great wine, flashy shoes, passionate people and my favorite dinosaur is a Velociraptor. I dislike rude/negative people, Ogie Oglethorpe, crocs, burpees and low resolution JPEGS.

Stacy Slezak

Hello, my name is Stacy and I have been a proud employee of American Eagle Screen Print since October 25, 2001.Craig (the owner) hired me to do inside sales for the company, but has finally given up all hope, and has since realized that he pays me to just here and look pretty all day and to be the "true PRINCESS" of the company. Let me tell you, I must do a dang good job at it since I have been here for so long.

Jody Altemus

As an assistant to the CEO, I do all the behind the scene work in order to keep Craig looking great!I am also a Trainer of Outside Sales Representatives. As a Subcontractor Representative, I specialize in working with other companies and producing their orders and their customers never know! When it comes to the Central Park Store I am the new product creative ideas lead. This includes new art ideas to new products, I like to be the first to try something new.

Among the many hats I wear, I am a Facebook generator. That's right! I get paid to be on Facebook.

However after all of this my number one most important job is being a mom to the two most amazing teenage boys and my best friend is a 100 lb pitbull.

Nicki Kubovcik – West Virginia & Virginia

Hi my name is Nicki and I have been in sales for about 10 years. Not only have I been in sales for 10 years but I am also a registered nurse, a class clown and graduated from the University of Class Clowns. I once had a dream of writing about circus clowns in the government sector.
Meet the Artists
Joe Fogle

Start Date: May 23, 2005

College: Pittsburgh Technical Institute

Programs Versed In: Photoshop, Illustrator, Corel Draw, PageMaker, Quark, Dreamweaver, Web Design

Other Interests: Writes independent comic books on the side called Creatures of War. Also designs the art for Sci-Fi Valley Con where he has a booth and people can come visit him.

Chuck Kelley

Start Date: August 10, 1998

College: Art Institute of Pittsburgh

Programs Versed In: Photoshop, Illustrator, Corel Draw

Other Interests: Staff artist for National CAR-Toons. Has air brush skills.

Brad Buterbaugh

Start Date: April, 6 2007

College: Pittsburgh Technical Institute

Programs Versed In: Photoshop, Illustrator, Corel Draw, InDesign, Quark, Pagemaker

Other Interests: Has an Associates in Specialized Technology Degree for Graphic Design. Provides DJ services as DJ BlackOut in spare time, nights and weekends for bars and clubs.

Nicole Santillo

Start Date: July 7, 2014

College: Art Institute of Pittsburgh

Programs Versed In: Photoshop, Illustrator, Corel Draw, PageMaker, Quark, InDesign, Dreamweaver, Web Design

Other Interests: Has both an Associates and Bachelors Degree in Graphic Design as well as a Diploma in Computer Technology. Is an avid video gamer, comic book reader, and movie goer geek in her spare time.
Meet Screener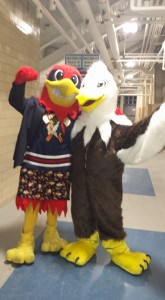 Screener
Screener is our buddy and he is available to come to your event! He can be there at games, fundraisers, you name it and make a date he can be there.
If you would like Screener to come to your event call us at 814-539-2974.